Client Impact
Your Competitive Edge
To meet the challenges and rigors of today's business and organizational environments, your people require a competitive edge. Terri Schneider offers exactly that in entertaining and exciting presentations that inspire as much as they teach essential skills that will take your group to an entirely new level: beyond potential, beyond finish lines, beyond your wildest extreme performance.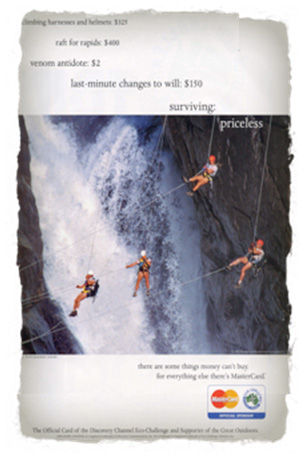 Terri's presentation on being a quintessential team player hit the mark and everyone was at attention! The message was excellent and it was adorned by fascinating stories about her experiences. It was a motivating presentation on many fronts: on a personal level, and at an organizational level, where we strive for greater camaraderie to compete effectively and fairly in our industry.
– R. Montes, Arena Manager, IBM Software Executive Briefing Program, Worldwide Briefing Program Operations
Terri Schneider is a passionate speaker with the rare ability to take her incredible experiences, inconceivable to most, and draw real life parallels that will inspire anyone. She speaks from the heart, and her energy is truly contagious.
– D. Cole, Director of Sales, Tyson Foods, Inc.
Terri has the unique ability to relate adventure racing in the world of sport to team dynamics in the corporate environment. She speaks articulately from the heart, and can inspire anyone to be the best they can be.
– A. Henrickson, Staffing Specialist, Hewlett-Packard Company
Terri Schneider's presentation was amazing—she's a truly remarkable person. Her reach-out-and-grab-you style and her tales of team-work along with her spectacular photos were really truly awe inspiring. Her personable style inspired us to excel—not only focus on our individual strengths, but to also have the courage to reveal our weaknesses in order to build a stronger, more productive team. I would recommend Terri's motivational program to any group where team-work is involved, large or small.
– M. Willaman, President and Founder, HRmarketer.com
Terri did an excellent job in bringing together the aspects of adventure racing and working together as a team in a corporation. Her discussion on the commitment made in racing and how it relates in the workplace was just what we needed. We look forward to working with Terri in the future.
– B. Watkins, President and CEO Seagate Technology
I feel so fortunate to have met and worked with Terri. She inspired my group from just reading her article and casually talking with her, but really TOUCHED each person when she spoke. I hope our paths cross again there is so much to learn from her and she's very motivating.
– H. Knapp, Sales & HR Coordinator, Aperto Networks
Terri is an inspiring, high-energy individual who has the unique ability to captivate her audience based on her real life experiences in adventure racing team events. By relating her exciting experiences with team dynamics, such as her participation in Eco-Challenge events, she absolutely enthralled our group. I must say that in my 30 years of management experience, I was very overwhelmed by Terri Schneider's effective 'down to earth' style, together with her natural ability to involve her audience.
– P. Cutright, Director, Business Operations Management Compaq Computer Corp
Terri shares deeply and thoughtfully her experiences while applying them to your own process. She is very charismatic, articulate, and direct with her message. One can't help but feel inspired by this truly unique individual.
– C. Siegel, Personnel Manager Seaside Company
Terri has a unique ability to synthesize meaning from her experiences and communicate it to others.
– Dr. T. Deetz, Santa Cruz Medical Clinic
Our club has been fortunate to have been 'spoon-fed' so many phenomenal athletes who have spoken to our group. One of our members has pestered me for quite awhile to contact Terri and have her speak. Now I can see why he was so adamant! Of the numerous speakers I've worked with over the last several years Terri clearly delivered the best presentation with enlightening, useful content. She is obviously a tremendous, accomplished athlete and articulate her experiences beautifully! Thank you Terri for sharing your insights, your life and your enthusiasm.
– Silicon Valley Triathlon Club
The Power of Team workshop is very alive. Terri Schneider shares her real life experience while captivating the audience. The breakout workshop is visual and engaging and inspired many of our team members to go out and take a risk in their  life!
– F. Stover, Financial Aid Office, University of California, Santa Cruz
Terri – I am still on a high from hearing you speak yesterday. I can't tell you what a true thrill and honor it was to have you there. I have received so many calls & emails thanking me for inviting you. People were just in awe of your life, your attitude, your wisdom, your strength, your peacefulness, and your unyielding drive and stamina.
– J. Z.