Extreme Performance
Lessons in Success from the World of Adventure and Endurance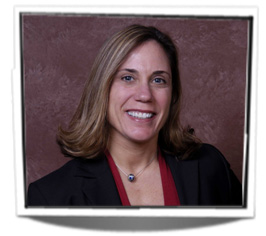 For those who want to go beyond merely surviving and truly thrive, challenge and   risk taking are like air and water—life's essential elements. Learning to embrace challenges as exciting moments of possibility and take risks in the face of fear will unlock the door to living life full out.
– Terri Schneider
One of the world's most diversely accomplished extreme ultra-endurance athletes, Terri Schneider translates her athletic experiences into an epic adventure that will enthrall audiences while inspiring your group to explode past perceived limitations and deliver extreme performances.
Speaking engagement video: The Power of Team
As in ultra-endurance races, there will always be intense challenges within any organization. Your group's success hinges on the way you and your team approach those challenges. Will they back down or step up and view challenges as opportunities to grow and reach beyond what they thought was possible for themselves and your group?
Through her unforgettable multimedia presentations and charismatic speaking style, Terri motivates audiences to embrace challenge. She delivers the valuable and practical insight you need to succeed.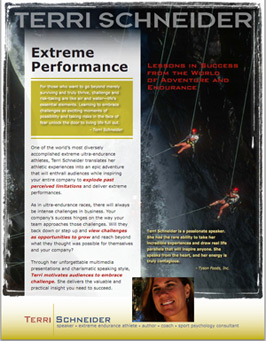 Terri draws on her extensive athletic experience as well as her advanced scholarship to create life changing presentations. As a long-time top female ultra-endurance athlete Terri believes that the challenges we endure are the ultimate opportunities that support us in achieving extreme performances.
For more details on Terri's background go to About Terri. Download a pdf of her accomplishments and capabilities.
In her various athletic endeavors as an adventurer, world class triathlete, elite adventure racer, and ultra runner, Terri regularly engages in physical, psychological, and emotional challenges that most people can only imagine. She thrives in the extremes of deserts, jungles, and mountains and finds comfort in the uncomfortable life lessons those landscapes offer.
Terri has persevered through challenging team dynamics and hardship on all levels. She offers her insight gained from these experiences as well as her expertise achieved through her M.A. in Sports Psychology to help others push through and past pre-constructed finish lines. Terri believes that the challenges we endure are the ultimate opportunities that mold us as human beings.
Terri will captivate your audience through her dynamic, inspirational, and visually stunning presentations that are customized to suit your unique conference agenda and audience.
Terri Schneider is a passionate speaker. She has the rare ability to take her incredible experiences and draw real life parallels that will inspire anyone. She speaks from the heart, and her energy is truly contagious.
– Tyson Foods, Inc.